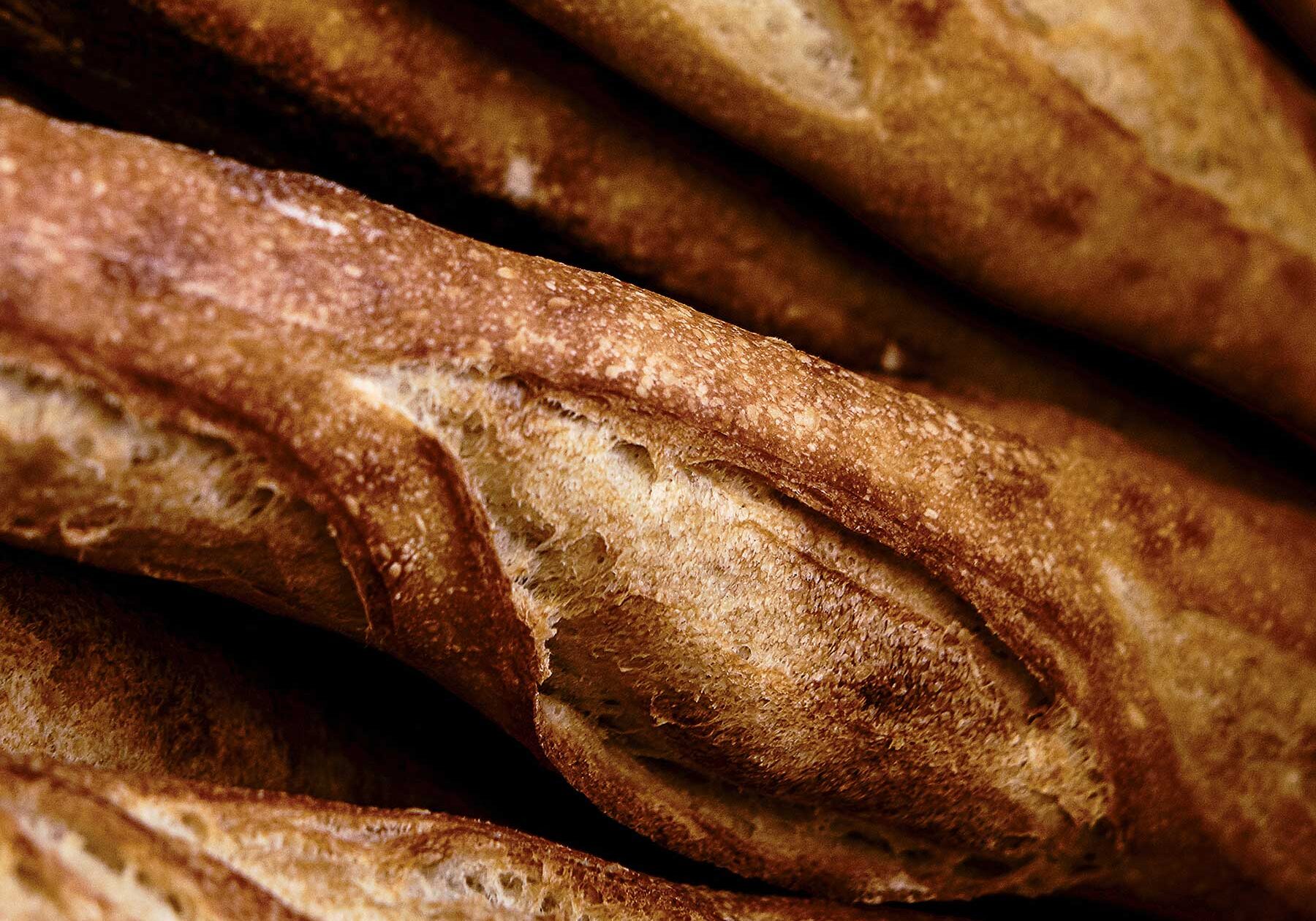 All of our products are handcrafted in our Tremont bakeshop – many from locally grown flour and ingredients.
Made with a blend of white flour and local whole wheat. A thick, dark crust with a creamy and chewy interior.
Dark kalamata olives, seasoned with citrus and herbs, folded into our classic sourdough.
Dark dried cherries and toasted walnuts folded into our classic sourdough.
Made with local, organic whole wheat flour from Stutzman's farm, this hearty loaf is topped with toasted sesame seeds.
Jalapeño-Cheddar Sourdough
Spicy, roasted jalapeños and hand- cut chunks of creamy white cheddar folded into our classic sourdough.
Garlic-Parmesan-Black Pepper Sourdough
A generous portion of golden-roasted garlic, seasoned with black pepper and heaps of parmesan, folded into our classic sourdough.
SPECIALS FRIDAY THROUGH SUNDAY
Fermented overnight in a bath of olive oil, then topped with even more olive oil, rosemary and sea salt and baked to a golden brown. Thick and hearty, this focaccia is a meal in itself. Additionally, specialty focaccia is available Friday through Sunday, with toppings changing weekly.
Classic French-style sandwich bread, made with white and whole wheat flours, with a touch of milk and honey. This loaf is soft, pillowy and comforting.
Classic French baguette. A crisp, thin crust surrounding a complexly flavored crumb with substantial chew. Available as full size, demi or epi.
Classic deli-style rye bread with caraway seed, made with local, organic rye flour from Stutzman's Farm.
Spiced Apple-Cheddar Sourdough
AVAILABLE WEDNESDAYS ONLY
Cinnamon and ginger spiced apples and big chunks of white cheddar folded into our classic sourdough.
AVAILABLE SATURDAYS & SUNDAYS
A dark and dense German-style rye bread. Made with local, organic rye flour from Stutzman's farm and a touch of coffee from Duck Rabbit coffee. Topped with nigella seed.
SEASONAL & SPECIAL FILLINGS OFFERED
Light and flaky, these classic croissants are made with high-fat European style butter and are fermented for over 48 hours for a complex but delicate flavor. Varieties include classic butter, chocolate, toasted nuts, and meat and cheese.
Buttery, rustic-style cinnamon bun drenched in our house-made molten brown sugar, cinnamon, and touched with a hint of citrus. 
Rustic-style, stuffed with pepperoni, mozzarella and provolone, rolled up and baked golden brown.
Flaky, crumbly and delicious, these scones are available daily in sweet and savory varieties.
Chocolate Chip  |  Salted Peanut Butter  |  Citrus-Hazelnut  |  Vegan Double Chocolate Rye
Made with our croissant dough, this buttery, flaky pastry is rolled in Cardamom sugar for a slightly spicy, citrusy finish.
Made with our croissant dough, this buttery pastry is filled with seasonal jams made by local producer The Home Pantry and topped with confectioner's sugar. Like a jelly donut but better.
Available coated in sesame and poppy, or cinnamon sugar, these delectable treats are buttery, flaky and perfect dipped in coffee.
SEASONAL & SPECIAL FILLINGS OFFERED
A buttery hand-held pie offered daily in savory and sweet varieties, with fillings changing throughout the year.
We toast our cinnamon buns, chop them up and soak them overnight in a rich custard. Then we add candied pecans and rum-soaked raisins for a delectable, dense treat.
DAILY VEGAN OPTION AVAILABLE
An ever-changing selection of hearty grab-and-go lunch sandwiches available daily at 10am.
We always have a meat option and a vegan option.
Vegan Charred Tomato Soup
This classic soup is thick, hearty and smooth. Specialty soups available occasionally, depending on ingredient availability. Available with half of an epi for the perfect light lunch.
AVAILABLE FRIDAYS, 3:00-6:00 PM
Whole pies and slices to-go every Friday: Cheese, pepperoni, and spicy pickled veggie available weekly, with weekly specials available while ingredients last. We will gladly make you a vegan (cheeseless) pizza.
MADE FROM LOCALLY-ROASTED BEANS
We offer a full coffee bar using beans from Duck Rabbit Coffee here in Cleveland. We make specialty drinks with either Califia Oat Milk or Hartzler Whole Milk. Vanilla, Chocolate, or Honey added to espresso drinks by request.